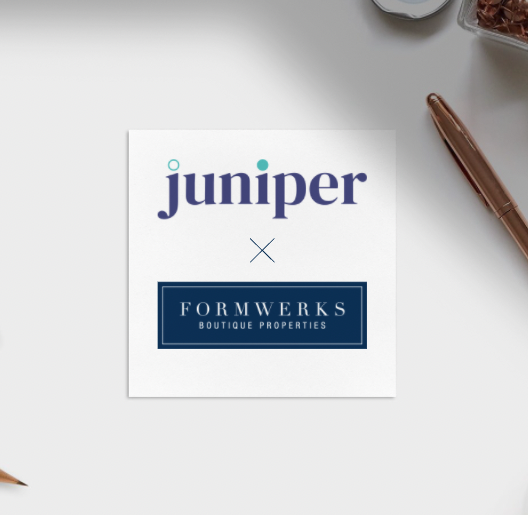 Formwerks Boutique Properties joins with Juniper
Formwerks Boutique Properties partners with Juniper to provide expanded Homeowner Care offering across all projects
Customer care matters in every industry. But at Formwerks Boutique Properties, our customer experience lasts a lifetime, as homeowners live, work and raise families in our flexible, comfortable living and commercial spaces.
That's why we make homeowner support such a priority — and why we're so excited to announce a new, long-term partnership with Juniper, a modern, digital-first homeowner care and closing platform.
With Juniper's simple, intuitive web platform, Formwerks' owners will have convenient access to everything they will need to keep their Formwerks-designed home, or commercial space, comfortable and well-maintained for many years to come.
Juniper makes settling into your new space stress-free and streamlined, from purchase to moving day and beyond.
Through the Juniper homeowner-portal, owners are able to schedule service appointments, key pickup, and homeowner orientations directly on the site. If you need a refresher on how to use an appliance, wish to double-check a specification, or review other documentation once you've moved in, you'll find everything you need in Juniper's centralized platform.
Important information like manuals, FAQ's, specifications, and more, are easily accessible through Juniper's inventory of your homes' rooms, where all the appliances, fixtures, systems, and furnishings they contain are listed in detail.
Communication is also easy through Juniper. Request repairs, assistance, and stay on top of announcements from Formwerks Boutique Properties. Thanks to integrated or embedded live-chat and video-conferencing abilities, you won't need to wait for in-person site visits to confirm what kind of help you need — or resolve issues you just needed a little guidance to fix yourself. Once you've submitted that warranty repair or service request, you can track how it's coming along through Juniper, too.
Juniper will be available to all homeowners at our Heritage series, Toppen Ridge, OFISWERKS and The Robinsons developments, as well as at all our future and upcoming projects, including all rental and commercial projects. We look forward to modernizing our homeowner care practices and making every new buyer's experience as smooth, friendly, and efficient as possible.